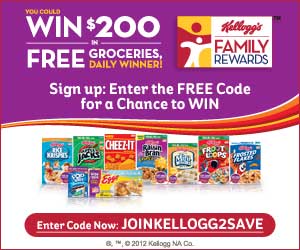 Have you signed up for Kellogg's rewards club yet? Rewards members get points when you purchase Kelloggs products. Just enter the codes from the package. Points can then be used to get freebies that include high value coupons, gift cards, movie tickets and more.
Currently a you can snag a coupon for $1.50 off Kellogg's Nutty Delight's Fiber Plus bars or $1.50 off Kellogg's Krave cereal. Check your boxes, you probably have more codes in the pantry right now.
After you get signed up, enter code JOINKELLOGG2SAVE for a chance to $200 worth of groceries, daily winners will be selected.
Here are 150 worth of codes to get your started.

KFRFREEGROCERIES – 50 points NEW!
MYFAVCHARACTER50 – 50 points NEW!
HALLOWEENPARTY25
LVNGSOCIAL25PNTS
KELLOGGSMEDAL20P 
HOWITWORKS20PNTS
KFRFIBERPLUSPOLL
Thanks, Michelle!